Prodapt is looking for passionate engineers who are willing to make a difference to the telecom/DSP (digital service provider) ecosystem
Position
Associate Software Engineer
Educational
B.E/B-Tech in any discipline (CSE/ECE/IT/EEE) Engineering candidates graduating in the year 2021
LOCATION
Chennai, Bangalore
The selected engineers will have the opportunity to innovate and work across next-gen technologies such as

DevOps
Software-defined networking (SDN)
Virtualization
Big data & machine learning
User experience design

Solve problems through analytical reasoning and lateral thinking and come up with multiple solution approaches to given situations
Demonstrate obsession to algorithms development in any one of the programming languages like C, C++, Java, Python, etc. or possess an eye for colors, imagine user experiences across web and mobile platforms and translate them into an intuitive user interface
Persistent and relentless in pursuit of excellence in any one of the above two areas
Creative and ready to walk the extra mile in seeking the root cause for any problem statement
An avid learner who masters the art of quenching the thirst for knowledge from all possible sources like the web, by word-of-mouth or any other means of assimilating information
Flexible and willing to learn any new technology at short notice and adapt proactively to changing organizational dynamics and situations
Academic Criteria
The candidate must have a minimum 65%, throughout in 10th/12th and diploma/graduation
The candidate should not have any standing arrears
History of arrears not more than 1
The Associate Software Engineers/ Software Engineers explicitly agrees and commits to serve Prodapt for a period of 30 months from the date of joining
Prodapt is a two-decade-old consulting & managed services provider, singularly focused on the telecom/DSP (digital service provider) ecosystem that helps clients transform their IT, products, operations, and networks to meet their strategic objectives. Prodapt provides end-to-end IT/software architecture consulting, application development, systems integration, testing, maintenance & support. Prodapt enables the digital transformation of its clients by designing and developing digital portals, mobile applications & end-user-based products for linear TV and OTT applications.
Prodapt provides insights and thought leadership-led transformation services leveraging next-gen technologies such as RPA (robotic process automation), AI/ML (artificial intelligence/machine learning), SDN-NFV (software-defined networking/network function virtualization) and next-gen OSS/BSS systems. Its business consulting team provides Six Sigma process improvement and automation/RPA consulting services to telco operations teams. Prodapt has specific frameworks and solution accelerators that accelerate time-to-benefit for the clients.
How much do you know about Prodapt?

A global leader in providing IT, product, network and operational services to the world's leading DSPs
Established in the year 1999
Headquartered in Chennai, India
Part of the Jhaver Group of companies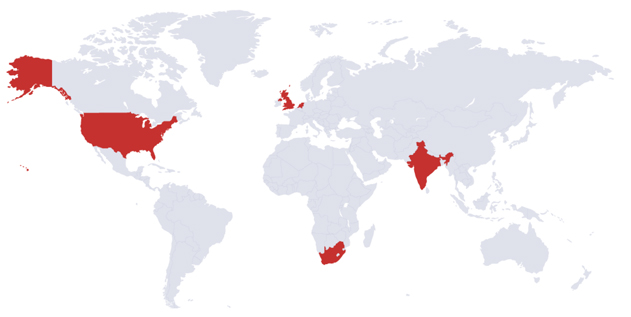 Delivery centers in the Americas (US, Canada, LatAm), the UK & Europe, South Africa & India

Singular focus on the telecommunications industry

2000+ employees globally
Prodapt's leadership talks about its 20 year journey