Jindal Steel & Power Limited HIRING FOR
Graduate Engineer Trainee Program 2019
Engineers are the backbone for JSPL. From production engineers to application engineers, JSPL offers world-renowned training and opportunities to build foundational technical and professional skills which provide a great platform to start your career.
What we offer :
Opportunity to work with world's leading Steel, Power & Mining Industry
Opportunity to explore your passion by learning and growing continuously.
Exposure to action learning projects across various functions.
Build a strong career profile by working on challenging assignments
To develop with company's sponsored career advancement programs
What are we looking for: :
Holistic performer with excellent track record in academics and co-curricular activities.
Passion to learn and perform in a rapidly changing and challenging environment
Open to relocation based on business requirements
An intercultural mindset
Job Title : Graduate Engineer Trainee (GET)
Job Location : Raigarh (Chhattisgarh) and Angul (Odhisa)
Training Period : 12 Months
Salary : 5 LPA during training period / 5.5 LPA after training period + Retention Bonus Rs 3L.

Eligibility Criteria for the Campus Hiring 2019 :
Qualification – BE / B.Tech (Mechanical / Metallurgy / Chemical / Electrical / Instrumentation / Ceramics) on campus hiring 2019
Consistent academic career i.e. 65% throughout (10th, 12th, Graduation)
Desired Candidate Profile: :
Referred candidates MUST meet ALL of the following criteria:
Must possess excellent English written/spoken communication skills
Selected candidates should be available to join immediately, if needed
Selected candidates will have to sign a 3-year Service Agreement on the day of joining
Must be open to relocate to any JSPL location, work across technology, domain, role and should be ready to work in shifts if required.
NOTE: Only shortlisted candidates will receive invitation letter with venue details to undergo selection process with unique ID and details of mandatory documents required.

About Us
Jindal Steel and Power Limited is amongst India's fastest growing and largest business conglomerates with significant presence in core infrastructure sectors including Steel, Power and Mining. Led by Mr. Naveen Jindal, JSPL has a DNA which breeds innovation, transformation, flexibility and adaptability.
JSPL has cutting edge capacities to produce 10.75 Million Tonne per Annum (MTPA) Iron through a judicious mix of Direct Reduced Iron (DRI), Blast Furnace and Hot Briquetted Iron (HBI) catering to its 8.6 MTPA Liquid Steel making processes across 3 locations. The company has a well spread-out installed steel capacity of 8.4 MTPA prudently spread over Bar Mills, Plate Mills, Rail and Universal Beam Mill (RUBM), Medium & Light Structural Mill (MLSM) and Wire Rod Mill.
JSPL's captive Iron Ore Mines at Tensa, Odisha have a production capacity of 3.11 MTPA, The company owns and operated combined Power generation capacities including 3400 MW O.P. Jindal Super Thermal Power Complex - the largest in Chhattisgarh. JSPL's global operations include a 2 MTPA integrated steel complex at Oman; and coal mining operations of 6.2 MTPS across Australia, South Africa and Mozambique.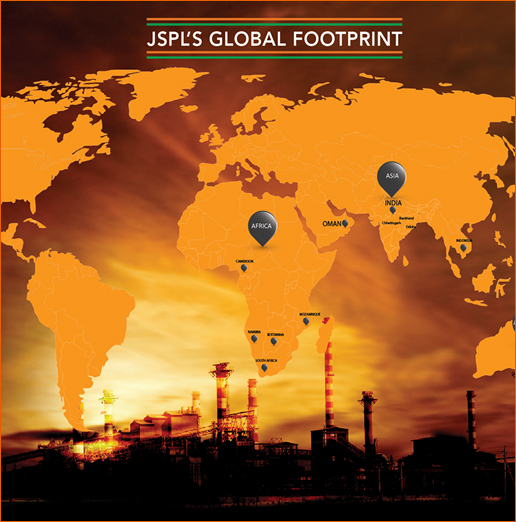 JSPL'S Key Product Range
From the widest flat products to a while range of long products, JSPL today has a product portfolio that caters to markets across the steel value chain.
JSPL has pioneered the production of Hot Rolled Parallel Flange Beams and Columns in the country. The company produces the world's longest 121-metre long rails and is the first in the country to manufacture Head Hardened Rails for high speed trains and metros. JSPL also has the distinction of producing high strength angle irons for transmission towers. The company's plate mill at Angul is capable of producing 5-meter-wide plates - the widest in India.
JSPL manufactures high strength linclal Panther TMT Rebars equipped to withstand shock loading and cyclic loading condition making them an ideal choice for buildings in high seismic zones. In addition to TMT Rebars, JSPL also manufactures customised steel products like Weld Mesh and Cut & Bend Rebars aimed to speeden up the construction process.
Stories from our GETs

As I stepped into JSPL family way back in 2009, I was thrilled and excited by the magnanimity of its VISION. As a fresh college pass-out, when I joined in GET-2009 (Civil) Batch in JSPL Angul (Odisha) Greenfield projects, JSPL had given me the opportunity to handle Projects across all Spectrums – be it Civil, Mechanical, Electrical, Commercial and Administrative – This is the Freedom which kept my learning curve always high.

I also had the opportunity to do full-time Company sponsored MBA (2012-14) with 1 semester Exchange program in European Business School- Germany which further honed my International Experience. Presently I have in-charge of Business Unit- Coal (at Corporate office) looking after the fuel security of all 7 JSPL Plants along with Coal Block auction and looking after the Policy Advocacy part.

If one have the will, JSPL is the right place for taking up the challenge.

Samshad Shaik joined Jindal Family in July 2007,Multitasker and Go getter Ms.Shaik is from the first batch of GET. Here what she has to say about her journey with JSPL.

"Jindal has provided me numerous opportunities to enhance my capabilities beyond my expectation. We are always encouraged to do things more innovatively and as a part of that we developed an in-house set up of Iron ore benefiation plant in Raigarh. And, pilot coke oven to test various blended coals from which we stabilized the blast furnance coke properties.

Not just through professional development JSPL has supported me to develop my learning personally.

JSPL provided me with an opportunity to do MTech in Steel Technology from IIT Mumbai in the year 2011 through a sabbatical programme. As a part of the core team member, was lucky to avail the opportunity with SMS Meer for rail Head hardening project and successfully commissioned and developed Rail Head hardened Grades like 1080 HH & R350HT, which is the first of its kind not only in JSPL but also in India."

Sambit Mishra joined Jindal Family as GET. Here what he has to say about his journey with JSPL.

" If there is any organisation who breath Innovation it's JSPL. In JSPL there are no boundaries of Learning. Here every learning teach us that we have so much more to learn. There is no fear of failure. Failure inspires us to success. Success for us is not a destination but a journey. Through JSPL, we are building our nation and making in India. It connect us with the larger goal. We are a 30 Year Old Startup of Innovation"

"I started my career as a Graduate Engineer Trainee (selected through all India recruitment process) in Jindal Power Limited in 2009. The company has strong policy of rewarding young achievers and within very short span of time I was awarded the position of Section Incharge (youngest in the organisation) ,Business Executive Performance of the year(2012) and exemplary work awards(2011 & 2012). JSPL sponsored me for a 2 years full time residential MBA program in company's own university, Jindal Global University, Sonepat. After rigorous selection process I was nominated  as an internal candidate for company's flagship leadership program Jindal Lead Management Group.

In my current role, I have been taking care of domestic coal procurement of JSPL Group and leading a team of young professionals. JSPL helped me reach where I am today in just less than 10 years time."